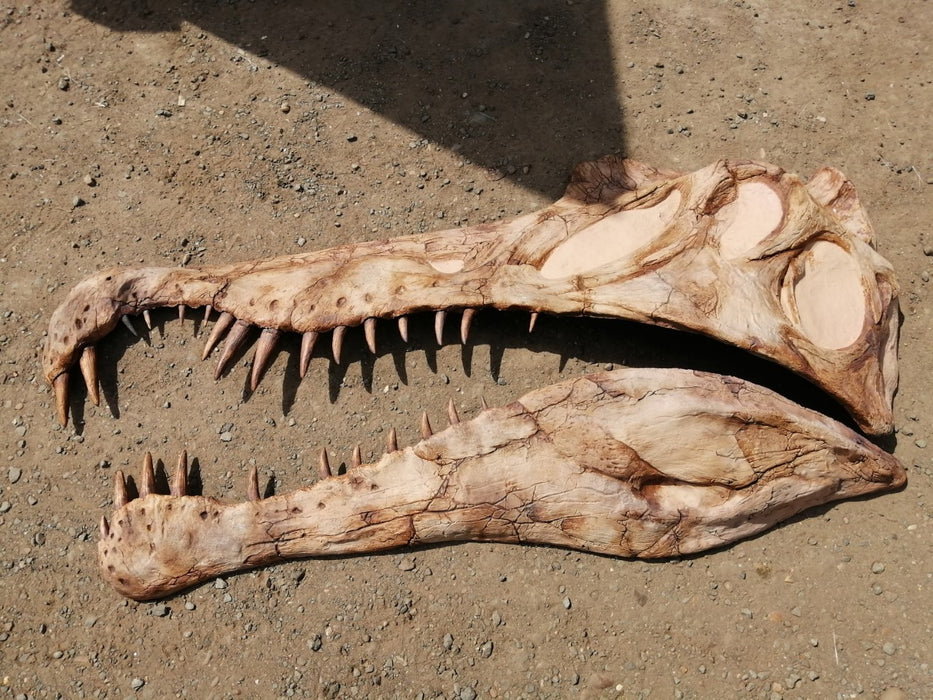 Spinosaurus aegyptiacus Life Sized Half Skull Wall Mount Replica
SPINOSAURUS AEGYPTIACUS
1:1 scale Spinosaurus aegyptiacus half skull wall mount. We are proud to offer the only commercially available Spinosaurus skulls in the world. Length 1.6m long depth from wall surface at widest point (rear of upper skull - middle of Jugal bone) 20cm. Jaw is separate and with a simple hinge and can be mounted in any gape you require from full open to closed. This skull with maximum gape is massive. Provided in right or left hand facing.
This unique replica skull was designed and sculpted from actual Spinosaur specimens, including S.aegyptiacus and I.challengeri. This stunning and unique wall mount captures every fine detail of the skull of this incredible and still mysterious animal.  Does not include internal bone structures. Ideal for mobile display, exhibits and home displays, easily transportable. Weight approx. 8kg. 
Available with or without matrix, please contact us after ordering-  additional charge.
Available in our world famous level of artwork in stunning Moroccan sandstone (shown) and also available in a classical fossil brown.
Ships as standard outside Uk as 4 part replica. If you require the skull shipping in two full parts, then please contact us for a custom quote on shipping.
(Last image sent in by a customer upgraded for display with  LED lighting)
Free shipping in the UK, please allow 3 weeks for dispatch.
If you have any further queries regarding this item, please do not hesitate to contact us.
Photo 1 - Side View
Photo 2 - Detail
Photo 3 - Close up of artwork and detail
Photo 4 - One ready for shipping