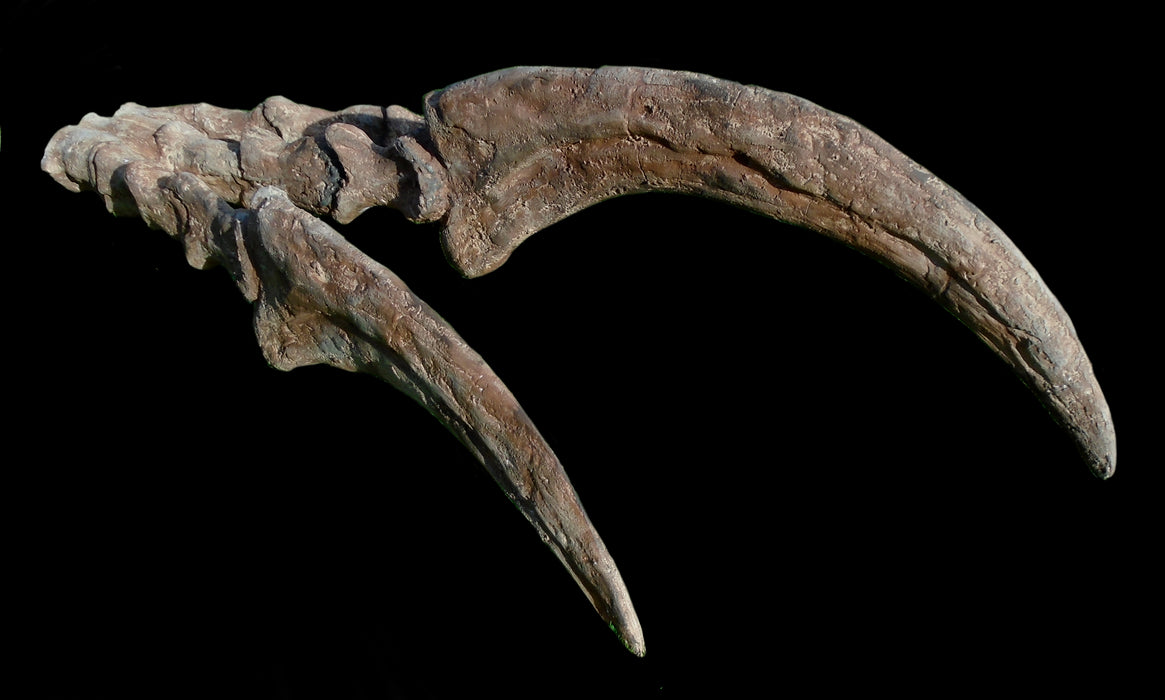 Therizinosaurus Fossilized Claws and Hand 4 foot Life Sized Replica
THERIZINOSAURUS
Therizinosaurus - 'scythe lizard', from the Greek therizo meaning 'to reap' or 'to cut off' and sauros meaning 'lizard') is a genus of very large therapod dinosaur. Therizinosaurus comprises the single species T. cheloniformis, which lived in the late Cretaceous period  around 70 million years ago, and was one of the last and largest representatives of its unique group, the Therizinosauria. This species was first discovered in mongolia and were originally thought to belong to a giant turtle-like reptile (hence the name, T. cheloniformis – "turtle-formed"). It is known only from a few bones, including gigantic hand claws, from which it gets its name.
This incredible life sized replica hand replica is from the forearm of this colossal giant. Whether in life they were used to strip foliage from trees, or as formidable weaponry, this hugely impressive replica claw speaks for itself. Cast in lightweight Poly resin, fossilized 70 million year old finish, supplied with simple display stand for vertical display. 

Please allow up to four weeks for shipping as each one is hand made to order in our studios in Leicester, so please order early!
FREE Shipping UK Via Parcelforce tracked and insured service
International Shipping via reputable couriers tracked and insured.